When I was around 6-7 years old, my buddies parents (The Carrols) had this cool sculpture that had a ball drop down and eventually hit a bicycle bell.

I was mesmerized with it and thought it was so damn cool... My buddy said his Mom had gotten it at some art show called the Sawdust Festival! I remember later we went to the show and watched the welders through glass in the back of the festival. As I grew our family moved to Europe and this sculpture stuck in my mind! I wasn't old enough to weld so my brother came up with the idea of making toothpick sculptures!!! We brothers sacrificed our bicycles, and disassembled them to get its bearings to use as the balls and we both began making our toopick sculptures. It was in Europe that my parents had some friends over and they were so mezmerized on our sculptures that they asked my parents if I would sell it to them. I was kind of wanting to keep it, but they were very persistant. It was my first piece of art that I ever sold and there was happiness and loss simultaneously. Feelings I still get today when I sell a piece! Our family came back to California from Europe and now, I was old enough to weld!! Eventually I took a hot metals class (Mr. Ingrams) in high school, but the high school teacher said we couldn't make wire sculptures because students ahead of me were wasting wire, and that he would flunk anyone if he saw us doing it. I only had one pacinko ball to work with.

One day Ingrams was absent and the substitute teacher had no idea of this rule and it gave me just enough time to make a small ball sculpture, all the kids in class were kind of holding their breath knowing I was totally busted if our regular teacher were to walk in at anytime. I hid my new sculpture in my locker till end of the semester, trying to smuggle it out before teacher came back. My hot metals teacher had us clear out our lockers and saw my sculpture.......angrily he pronounced at the top of his lungs......"Brindley"....paralyzing fear took over the class.......I didn't even say anything......I just scrambled for the ball and dropped it in and watched the teachers face....His face melted from anger to become childlike......

He laughed like Santa Claus, so hard and said your lucky Brindley I don't fail you....get out of here......I had already come to terms that if he failed me, it would be worth having my sculpture because that was the only reason I took the course! I had so much fun showing people for years and telling the story! One day I had a party with alot of people in a drunken stupor and someone fell on it and smashed it beyond repair. I was so bummed, but it led me to eventually buy a welding kit when I could afford one and make others!! Now I sell these sculptures at the Sawdust Festival! I carry it on and tell people this is art I want you to touch, handle and play with.........

I love watching the smiles that sweep over people that play with them, from the very old to the very young alike!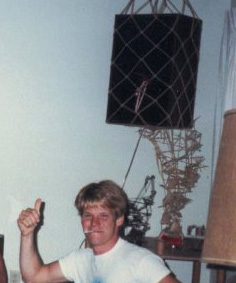 The only photo I have of my very first sculptures!!!
(in the background - that's cliffy thumbs up)
Toothpick Sculpture was from Europe and the first welded sculpture from High School
(before it was destroyed) is shown side by side!!!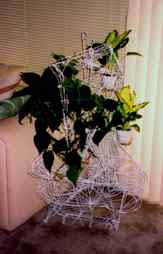 the only photo of a very old sculpture I did many
moons ago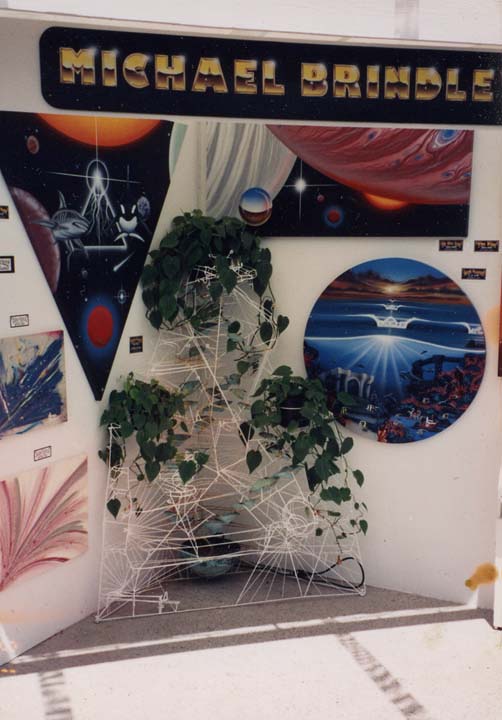 3 tracks, a jump and loop de loop with a fountain......first big piece in the 1990's


2010 model
a special thanks to Kailee McGee & Rich Costales for the editing!!!